Bass Fly Fishery Discovered
on Lake Huites, Mexico

By Floyd Yarbrough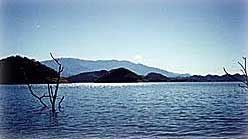 Flying on a plane has never bothered me. It is the taking off and landing of the plane that causes me to squirm. That being said, I admit I was a little apprehensive about taking off and landing a total of 6 times to get from DFW airport to Los Mochis, Mexico for a fishing trip to Lake Huites. Then again, the thought of getting away from my office for 5 days on a vacation sounded too good. Especially when Greg Van Steenkiste told me about the fishing at this great new Mexican lake.

I knew this was going to be a good trip from the moment I got in line at the American Airlines ticket counter at DFW Airport to check in for my flight to Tucson. There in line in front of me stood John Biondi, his son Byron and John's brother, Mark. They were each carrying a suitcase, a huge soft-sided tackle bag and rods cases. So was I. After introductions, it was apparent that each of us had mutual friends who fished (a good friend of mine Ken Revell used to work with John at General Motors) and before we ever got off the ground, we had caught more bass in the airport lounge in an hour than a lot of anglers do in a day on a real lake.

After arrival in Tucson, we hooked up with Greg Van Steenkiste of Phoenix and his friends for the connecting flight into Mexico. Greg is CEO of Scientific Bass, makers of Kick'n Bass fish attractant and the Lip Grip'r.

Greg had been after me to go on a trip to Lake Huites for some time. After all, he had been 4 or 5 times and every time said the fishing was phenomenal. We all departed Tucson, after a 2 hour Aero California airline delay, and after a pretty short flight, landed in Hermosillo, Mexico. After a brief stopover, we departed for another short flight to Los Mochis, Mexico. Upon arrival at 9:00 pm at the Los Mochis Airport, we were greeted by Jose and the drivers from the Lake Huites Lodge. After making sure we had all of our gear off the plane, we loaded the Suburbans and vans for the 3 hour drive to the lodge. The first 2 hours were on 2 lane highways and were normal. The time went by fast as each of us in the Suburban got acquainted. When the convoy of 4 vehicles arrived at the edge of the Sierra Madre mountains to start the drive up to the lodge, the final 16 miles took about a hour. From the looks and condition of the mountain road, it was apparent that we were heading into some rugged mountain country.

Upon arrival at the Lodge that night, I was amazed at how nice it was. This is roughing it? This place is brand new, I thought. The rooms were clean and large. The staff had a full dinner, hot and ready for us. We unloaded our gear, stuffed our faces and then retired at midnight for a 5:00 am wake up. I would share a room with Mark Biondi, an educator/coach from Kennedale, TX and neither one of us had to be rocked to sleep that first night.

At 5 a.m. came a knock on the door and a waitress greeting us with hot coffee. Breakfast was ready when we arrived at the dining room and again the food was fresh and delicious. Sunlight was just starting to break up the night over the Sierra Madre mountains as we started loading up our stuff to head out for the one minute ride down the mountain side to the boat launch. With the lake down below, it was an awesome view. What a beautiful way to start 3 days of nothing but fishing.

Time to fish. Manuel would be our guide and before I could introduce myself, he was busy loading up our tackle into the boat. We immediately motored down the lake for about 1/2 mile when Manuel stopped the boat to start fishing. The water looked great. The scenery was almost too much to take in. Every single spot looked so fishy. I didn't know where to cast first.

Greg and I would be fishing together and we both started chunking top-water lures. We couldn't get a bite the first 30 minutes. At least not on a Spook. We would find out later that somewhere else on the lake that morning, Byron Biondi would be smashing the bass on a small Pop-R.

Time to move. We motored across the lake for about 1/2 mile to a long brushy point. I picked up my white spinner-bait, with white double willow leaf blades, and proceeded to chunk. On the 3rd cast, I caught a 5 lb. bass. From the pull of that fish, I would have sworn it was bigger. Just a few casts later, another 3 lb bass. Then another. Then Greg lands a 5 lb bass on a Fluke. Then he catches another. Then I miss one. Then a good one eats a white jig and frog. Greg says, "Fish on!" The race is on. After a couple of photos of the bigger ones, we were too busy catching fish to take the time for photographs.

We spend the rest of the morning fishing several spots and every one of them looked better than the last one. We're catching fish everywhere we stop. At 11:30, our guide signals that it is lunchtime, so off we go back to the lodge for lunch. Jeez...these people are trying to fatten us up for slaughter! The bean & tortilla soup was so good I had two big bowls of it. Then they bring our main course. I was stuffed. On top of everything else, there was a bottomless bowl of homemade picante sauce and chips on every table. And even though I don't drink alcohol, those who do can enjoy a frosty cold brew or margarita, with an endless tap at their disposal, during their stay. There is also an endless supply of cold bottled water, soft drinks and iced tea. I promise, you won't want for anything to eat or drink while you stay at Lake Huites Lodge.

After lunch, it was back out again. Greg and I literally were traveling down the lake when we said, "That brushy shoreline over there looks good. Let's fish it." The bite was unbelievable. Every 10 feet we caught a fish. This went on for over a mile of shoreline. Add that up. A better than average bass (2 to 4 lbs) every 10 feet for a mile. I lost count on how many doubles we had on. And we didn't even try and count all of the ones that we lost or that jumped off the hook. By suppertime at dusk, I was one tired puppy from catching bass. And my ribs were bruised from setting the hook so many times.

After we had been fed a huge dinner, the anglers at the lodge all got together for a little fellowship and to talk about their first day on the lake. It was evident that every boat caught a lot of fish. And on several different types of lures and presentations. After an hour or two of this, most of us were pretty tired from the short night before and we all turned in for the night.

Lake Huites was created when the Rio Fuerte River was dammed. At about 30 miles in length with 30,000 acres, the lake is more of a river than a lake. I can't recall ever fishing a more brushy or rocky lake. There were long sloping points every place we went with brush piles and rocks everywhere. Imagine flooding the wilderness and mountains of Mexico and you get a good idea of what Lake Huites looks like. Up until 1997, no Americans had fished this lake. This lake is also the very first lake to de designated for sport fishing only by the Mexican government. This means that the gill nets of the commercial fishermen will have to stay out of the lake.

Day two. Again, coffee wake up call room service and then another big breakfast. After a day of fishing on Huites, I came to understand why these people feed you so good. You need the energy for the fishing each day. Out we go again and the fishing is again phenomenal. This time we start off with spinnerbaits and caught at least 30 in the first 30 minutes of the day. We discovered they wanted the spinnerbait ripped just below the surface.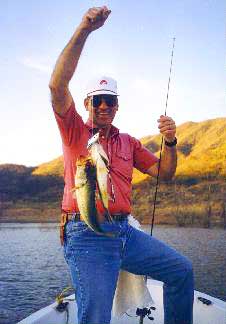 Days 2 and 3 were carbon copies of the first day. Greg and I, every boat, caught and released hundreds of bass. Even though we quit counting each day at about 75 fish, we know we boated over 300 bass, with a 3 to 4 lb. average in the 3 days we fished. And we probably jumped off another 100 plus fish. The largest bass caught during our stay was a 12 pounder. by an angler staying at the lodge. And what makes this even more remarkable is the fact that they were dropping the lake 6 inches every day! Imagine if they hadn't been pulling water.
Trying to tell a bass angler who has never been to Lake Huites about the unbelievable fishing, is like trying to tell someone who has never been a parent what it is like to have a kid. You really can't know how awesome the fishing is until you go experience the adventure for yourself.
The only thing negative about the trip is the fact that you eventually have to leave to come home. I am counting the days until I return this November and I'll take off and land 10 times if I have to. I want to thank Greg Van Steenkiste for finally convincing me to go to Huites; and Terry Hollan, Rene, Russell, Kelly and the whole staff at Lake Huites Lodge. Lake Huites Lodge is the #1 place to stay and this is the affordable vacation of a lifetime for any bass angler who wants to have a Reel Mexican Bass Fishing Adventure.
Muchas grande lobina! Adios!
More Information on this Destination

Click here for more information on Lake Huites.