Peacock Bass in Brazil's Amazon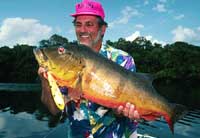 Ever-increasing numbers of anglers are trekking to South America armed with flies and lures to target the hard-fighting peacock bass. Drawing an explosive strike from an enraged or hungry peacock bass on fly or plug might be one of the most exciting and challenging experiences you'll ever encounter as a freshwater angler.
While the thought of traveling to the Amazon rainforest conjures up images of 30-foot long anacondas and schools of man-eating piranhas, in actuality the Amazon is a tranquil place, one where the animal population uses the dense jungle foliage to stay hidden and out of site. Ok, what about mosquitoes? Since the areas where most of the fishing occurs is considered a blackwater type of watershed, these conditions are generally too acidic to support the growth of mosquitoes. You are more likely to get a mosquito bite in your backyard than you are in the Amazon.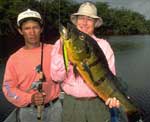 It was the late 1950's or early '60's that the first accounts of peacock bass were told by the late Field and Stream angling editor A.J. McClane. His text and stories described huge, hump-backed fish that had a resemblance to largemouth bass, but were much bigger and were brightly colored. McClane referred to those fish as "pavon," the local Venezuelan name, which loosely translated to peacock in English. Some believe that the bass moniker was either added to peacock bass by Florida Fish and Game personnel that were involved in the early stocking programs, or perhaps an American fishing tour operator, believing that not many "gringo" anglers would be interested in fishing for pavon.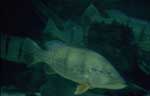 In actuality, the peacock bass is not a member of the bass family at all. It is just one of the some 1,600 plus member of the family of fish called cichlids. There are some striking similarities to the largemouth bass, such as basic body contour, cavernous mouth, ravenous appetite and a strong propensity to attack prey and fishing lures with a ferocity that is more reminiscent of much larger fish. One striking difference, immediately apparent to the first-time peacock bass angler is that this fish is much more vividly colored in varying shades of green, blue, orange and gold.
Peacock bass demonstrate three qualities that make them an ideal angling target: they are territorial; they mouth brood and they have ravenous appetites. Because they are so territorial, it is believed that a fairly high percentage of strikes will occur just because your lure or fly has violated their territory. Because peacock bass parents take care of their young, they will assault a lure or fly because it is a threat to their offspring. The fry will actually scurry into the mouths of protective parents when a threat is present). Their ravenous appetites can best be exemplified by the vivid mental image of 12 to 14 inch long baitfish actually beaching themselves on sandbars to escape the onslaught of peacock bass on the feed. When one takes advantage of what will trigger a feeding or aggression response by peacock bass, it will increase the odds of landing more fish.
CyberAngler will be hosting trips to several peacock bass destinations in Brazil and Venezuela and would like for you to be part of this unbelievable angling action. For more information about these two peacock bass fishing trips or other peacock bass trips to Brazil, see below.
Join CyberAngler for an Amazon Angling Adventure!

CyberAngler and X-treme Angling have teamed up to offer two fall trips to Brazil's vast Amazon watershed to fish for the exciting and powerful peacock bass aboard the Amazon Castaway. The first trip will run from October 24 - November 1, 2001 - more trips will be scheduled soon.
The trip will depart Miami's International Airport October 24, taking an overnight jumbo-jet flight via Brazil's Varig Airlines to Manaus, the capital of Brazil's Amazonas state. Upon arriving in Manaus, the group will board the Amazon Castaway, a 100-foot long luxury yacht that will travel during the day of arrival to the fishing grounds. Anglers can get some shut-eye today, rig tackle and visit with their new-found fishing buddies.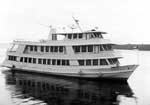 Accommodations on the Castaway are very luxurious. The entire boat is exquisitely appointed with dark mahogany and other tropical woods. All rooms are air-conditioned and each stateroom is equipped with a private bathroom and shower. Food while onboard will be prepared fresh each meal by the Castaway's own award-winning chef.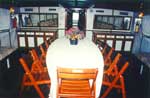 The Castaway will tow 8 Tracker bass boats, which the anglers will board each morning (two per guide) to fish for giant peacock bass in hidden lagoons and river structure with their guides.
The trip will include: Five days of fishing aboard the Amazon Castaway; all meals; lodging aboard the Castaway; two anglers per guide in a Tracker bass boat; all drinks; laundry service; last night's stay at the luxurious Hotel Tropical in Manaus and last night's meal at a restaurant in Manaus.
Not included on this trip are: gratuities; airfare to Manaus, Brazil and airport departure tax.
The cost for this fishing package is being offered in association with CyberAngler at the reduced rate of $3,200, plus airfare to Manaus. This is a savings of $300 off the regular price.
If you've ever wanted to fish for peacock bass, this is the trip of a lifetime.
For more information about fishing the Brazilian Amazon aboard the Amazon Castaway, or any other X-treme Angling Adventure, Click Here.