Fly Fishing With Flip Pallot In Belize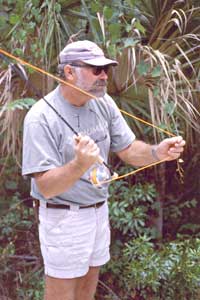 Flip Pallot, host of the highly acclaimed ESPN fishing series "The Walker's Cay Chronicles" will be conducting a three day fly fishing seminar/fishing trip at El Pescador Lodge in Belize from May 16-18, 2001 (arrive May 15, depart May 19).
During the day, guest anglers will be treated to excellent fly and light tackle angling for bonefish, permit and tarpon, while the evening schedule calls for Flip Pallot to conduct a series of formal and informal seminars, casting instruction and question and answer sessions. Anglers will be paired two to a guide and will be fishing the productive flats and mangrove areas around El Pescador for fantastic fishing action.
Flip Pallot has traversed the globe in search of a variety of gamefish species on fly rod and light spinning and casting gear. He is a well-known teacher, lecturer and author. The Walker's Cay Chronicles has been the highest rated television fishing show for many years.
The fee for this three-day Fly Fishing with Flip special package is $1,626.00 and includes: round trip charter flight from Belize City to the Lodge; three days of guided fishing (2 anglers per boat and guide); all meals; four nights lodging at El Pescador Lodge and a signed copy of Flip's book Memories, Mangroves and Magic.
More Information on this Destination

Click here for more information on Fly Fishing With Flip Pallot In Belize.