Summertime Fishing off Anna Maria
Capt. Rick Gross
July 2, 2013
Anna Maria - Saltwater Fishing Report

It is beat the heat time of year off Anna Maria Island. I really like half day trips this time of year. I try and leave the dock by 6:30am and be back by 10:30am. This dose two things it still is not to hot out and we miss the afternoon thunderstorms.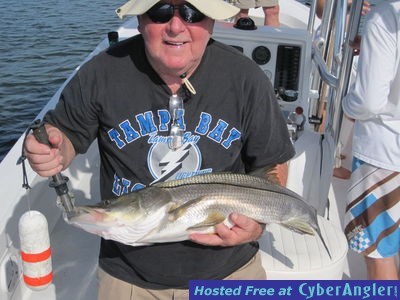 Catch and release snook fishing is at its peak this time of year.
The schools are in all the usual places you just have to find the right conditions to get a bite.
Good tide flow is key for most fishing but especially for snook.
Find a spot with good tide and you should be in business.
Trout have been a go to fish all year. Lots of fish in the slot with a few true whoppers from four to eight pounds almost every trip. Redfish have been a little slow this summer but that should change. Last July schooling reds where just about everywhere. As soon as the hatch bait gets big enough to fish with. Reds will start coming out of the wood work to feed.
Mangrove snapper are showing in better numbers also. I do not think there is any better fish on the frying pan than fresh snapper. Just about any type of structure will have a few fish on it. Some days it takes no time at all to get a limit of these tasty pan fish.
Thank You & Good Fishing!
Capt. Rick Gross
More Fishing Reports: