Jacksonville's. St. Johns River Jetties
Capt. Dave Sipler
May 1, 2011
Jacksonville - Saltwater Fishing Report

2.5 miles, if you're interested in a fishing trip. Rather than a long boat ride. 2.5 miles puts me right where I like to fish.


MORE time with lines in the water, is what it's all about.


During the summer, when things get really steamy in the river and at the inlet. A short ride out to the shrimp boats, the "chum hole", the SE hole, and Nassua Sound. Can have us on 100 pound Blacktip Sharks to 100 pound Tarpon. Along with
King Mackerel and Cobia.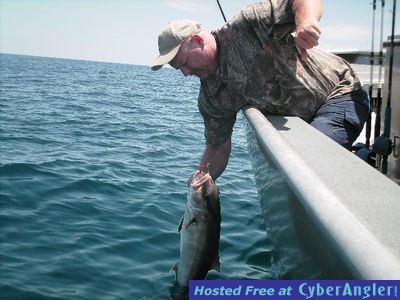 Some "ole school" chum fishing. Quiet, slow and relaxing, is where it's at. Make them come to us! (all the above species)
So many people fish as if they're in a King Mackerel tournament every weekend. Fishing for that one big fish, all day long. I like action, and a few King Mackerel go a long,long way. I recomend releasing them, and keep only what you will eat fresh.


I do not kill sharks. But they sure can stretch the string, for those looking for a battle. If you can handle a 100 pound Shark in deep water, you maybe able to handle a Tarpon in the deep water,(25 to 60') when it's 98 degrees in the shade.


Be prepared, for "No Long Boat Rides". Because when fishing around the St. Johns River Jetties.
There is no need.

Jacksonville Fishing Forecast:

Book Holidays 2-3 weeks in advance.
Always call, first.
Check my daily reports for; Photos, Videos, Reports, Commentary, Links of interest, Product Reviews, Photo Albums, Slide Shows.
More Fishing Reports: