400 lbs of Redfish
Capt. Dave Sipler
October 22, 2012
Jacksonville - Saltwater Fishing Report

YES...
It's been "mullet run" time. And 400 pounds of Redfish in as little as a 6 hr day fishing with three guys isn't a "fairy tale".


And ya' wanna know what is so nice about it?
-Unlike fishing the St. Johns River in the heavy current and using giant clumbsy tackle and heavy sinkers to reach the bottom. This was as light tackle fishing at Jacksonville's Best, max sinker size, 2 ounces.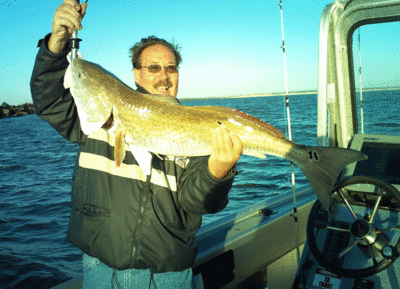 "Shhhhh...gotta be quiet. No one but a few of us even knew about it. I watched other guides just drive by and not even give us a second look. Their loss. Guess catching giant Redbass on 3" Mullet, under waves of 3" Mullet schools wasn't what they were after.....?"


I love watching the rods I call my "fairy wands" bend over in a horseshoe shape. Smaller hooks, like the 2/0 Matzuo's are super sharp. And can catch a 40 pound Red, just as easy as catching a Speckled Trout, Yellowmouth Trout, a Jack, or even some Shark.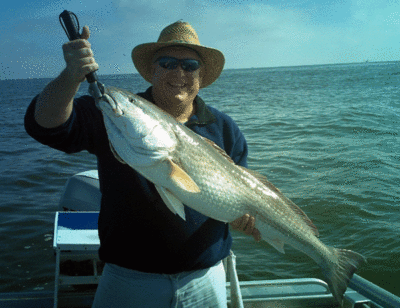 Yeah, in between the big Reds up to 32 pounds just this week, we'd fill the cooler full of Speckled Trout and Yellowmouth Trout (weakfish) which the limit is 100 pounds per person per day. Well, we usually ended up with 25-30 and keep half of that. Just to make a "fish fry".


Oh yeah.....the weather. It plays a huge role in the ability to fish the St. Johns River inlet area.
But the JETTYWOLF was built for it, with loads of fishing room, high sides and stability.
THE FALL SEASON IS NOW UPON US IN N.E. FLORIDA.
IT'S TIME TO THINK ABOUT RESERVATIONS. UNFORTUNATELY, I HAVE THE BEST DAYS ALREADY BOOKED FOR THANKSGIVING. (DAY BEFORE AND DAY AFTER) BUT I DO HAVE OTHER DAYS AVAILIBLE.
VISIT: WWW.CAPTDAVES.COM
-Rates
-Reports / videos
-hotels
-Frequently asked questions

Jacksonville Fishing Forecast:

NO SWEATING FISHING...the best of the year, is right N-O-W!
Target Species:

Redfish
More Fishing Reports: