LOTS OF HOT FISHING
Capt. Dave Sipler
July 8, 2014
Jacksonville - Saltwater Fishing Report

Finally, the July 4th week is over.
I was so busy that 10-12 days in a row was not uncommon. Thanks to Tropical Storm Arthur I actually took a day off, because I was supposed to have several little kids on the boat and fishing would have been futile for them in the 20-25 knot winds.
But, Arthur is now history....so is July 4th which is some what the "pinnacle" of the summer season around here.
I actually recieved a email from a "concerned report reader". Because I didn't post a report here on Cyberangler for a "short" while.
Well, I don't know how many times I've made mention of it. But I have my OWN daily reports blog, that get's updated no matter what.(because it's not as finicky) and that's the "reports page" on "my" website.
It's the meat and potato's of my whole website.
Video's, photos, reports, links, weather, updates and so much more:
CLICK ""REPORTS"" at: www.captdaves.com
and to your Favorites!
------------------------------
Between lots of taking Kids Fishing. Shark fishing, Bottom fishing for Redfish, a little Live Bait trolling over close reefs, and fishing the Mayport Jetties (St. Johns River Inlet)
There's always something to do off Jacksonville's Coast, without running for a hour or more.
My deal is; NO LONG BOAT RIDES. Basically, because I want to get "fishing" asap!
----------------------------------
VIDEO REPORT LINKS:
PRE, T.S. ARTHUR - http://youtu.be/EKc42oioCI8
Post, T.S. Arthur "tackle talk" - http://youtu.be/2bSvg0LqpoY
"VISIT JACKSONVILLE" - http://youtu.be/opX6oQkUHco
"2 hr KIDS FISHING" trip - http://youtu.be/U8z3Q6ty2rQ
July 4th SHARKIN' OUTSIDE INLET -
http://youtu.be/GOv_67NUy2Q
---------------------------------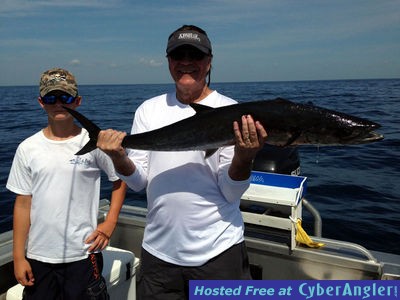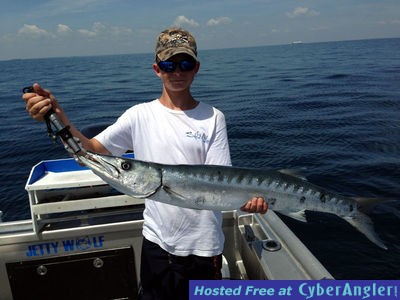 SINCE 1996, Capt Dave's Sport Fishing has been your full-time, 365, 7 days a week charterboat/fishing guide in Jacksonville, Jacksonville's Beaches, and surrounding N.E. Florida areas.
Departing: 4780 Ocean St.
Atlantic Beach FL
32233
8am-8pm eastern time: (904)642-9546
for inquiries and reservations
Taking MAXIMUM of (4) persons.
SPORT FISHING
Jacksonville Fishing Forecast:

BOOK IN ADVANCE, before leaving home if coming for a visit.
We start early and are done before 2pm because of storms and heat.
Croakers have arrived at the inlet = free big fish baits!
Target Species:

Sharks, Redfish, Croakers much more coming this fall
More Fishing Reports: