NOT Sheepshead.....
Capt. Dave Sipler
February 27, 2014
Jacksonville - Saltwater Fishing Report

There's two fish that reign what too many would call "supreme" in Jacksonville.
Sheepshead in the winter.
And King Mackerel in the summer.
I have no idea why. But of course I could speculate with at least three paragraphs.
But neither of these two fish do I want to waste typing time with. Nor waste fishing time with targeting Sheepshead, with customers. When on the water.
EXCEPT, during Mid-March and April.
WHY???
Because, during that time. They're spawning. And you can catch
B-I-G ones worth actually cleaning.
A LOT easier than dabbing some stupid fiddler crab, getting snagged all the time, in the jetty rocks! (or at least that's what most people do that I take) and they still can't feel the bite!
I GO DEEP, instead. Channel edges of the St. Johns River......OR shallow on sandbars of Nassau Sound.
I'll use cut chowder clams. No feeling the bite, the Sheeps just snort in the clam and it's a done deal!!
And the other fish that'll be caught are Black Drum all at the same time. When bottom fishing with cut clam.
Of course, TROUT and "big ones" reign supreme on my boat in the winter, spring & early summer.

And YEAH, we still catch our fair share of 7-Striped Jetty Snappers. A term I used 20 years ago, that now seems to kinda common place. HMMM?
And, of course Shark fishing is what I love to do, within sight of the beach and at the inlet all summer long, into fall.
And NO, Kingfish aren't in the bycatch list when Sharkin'. But Tarpon many times are.
Here's wasting some time during the morning of the worlds largest Sheepshead Tournament held by MY fishing club, The Jacksonville Offshore Sport Fishing club, out of Mayport:
Video Link: http://youtu.be/JxsSzfOWEXY
-SHEEPSHEAD
-BLACK DRUM
ON CLAM


-SPECKLED TROUT
-WEAKFISH
-POMPANO
-REDFISH
ON LIVE SHRIMP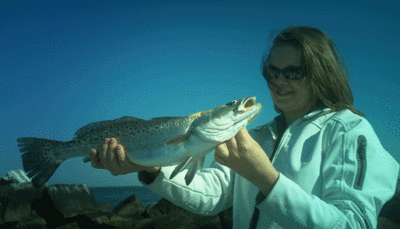 TWO types of fishing: Bottom or float-rig fishing.
that's all that needs to be done. And from here on out till it gets really warm, will keep "us" busy enough.
In between bad weather, and wonderful spring days.
CONSULT ME: about best tides and days this spring.
It may behove you to P-L-A-N a bit.
"LETS GO FISHIN"
www.captdaves.com
Target Species:

Drum, some sheeps, Trout, Redfish
More Fishing Reports: