Hard Pulling Fish a Plenty!
Carl Muir
June 26, 2010
Coromandel - Saltwater Fishing Report

Hi All
It has been a wee while since we posted a report from over here, it has been an awesome season with plenty of fish around.
The marlin season has finished now and we nailed a few goals for the season, with a nice striped marlin on jigging gear, we spend so much time jigging through the rest of the year I'd always wondered how a marlin would go on this sort of kit, and Mike Bonnici got the lucky job of finding out when a nice stripey hammered our lure 5 minutes into trying!


We also got a solid Blue Marlin on 15kg mono in the NZ Nationals which was an awesome 3hr fight behind the Aldermen Islands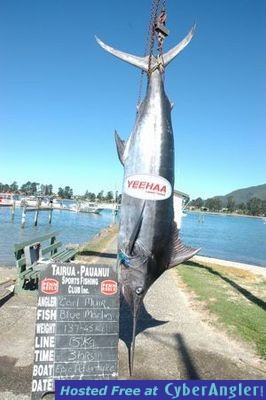 Now it is back into the kingi fishing for winter, and that started off strong with a plenty of solid kingfish in the 20-30kg range, like this one to Paul Justin which went 28kg and was caught jigging in 100m of water


There is plenty of kingfish action in the shallows as well, and livebaiting on light gear has produced the goods for skipper Tobes on our second boat out of Whitianga


When the fish are in the shallows like this popper fishing can be spectacular


And we've managed to net a few on the fly as well.


As the water cools down most of our time for the next few months will be spent out wide, livebaiting and jigging for them and there will be plenty of hard fighting 20kg kingfish around.


The snapper have moved into the shallows now feasting up hard over winter before their spring spawn time and everything from baits to soft plastics will see big reds like this peeling line.


If you are keen to get over and sample some of our awesome fishing action then get in touch
All the best
Carl
Target Species:

Yellowtail Kingfish Snapper Striped Marlin Blue Marlin
More Fishing Reports: