Mid Winter on the Coromandel!
Carl Muir
July 12, 2009
Coromandel - Saltwater Fishing Report

Hi All
Well it is the middle on winter right now, the temperature has dropped to a low 14 degrees, but that is as far as it will go. The low water temp has brought a very rare catch of our waters - a slender tuna we caught on a soft plastic yesterday!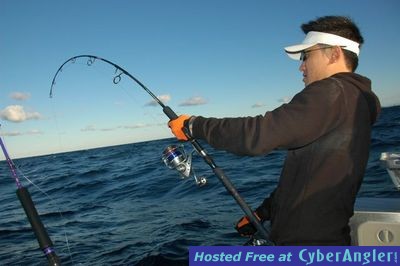 We are now on the downward slope to spring and summer - bring it on!
The kingfish are still around on the deeper reefs, it just takes a bit of work with the jigging to get them into striking but over the last few weeks we have managed kingis over 20kg most days. We had a guest from the USA over last week, Brian Andrayo, who is used to fighting swords and tuna back home, and was might impressed at the fighting qualities of our yellowtail kingfish. You certainly know when you are attached to one!!


The snapper are around the shallower reefs now, spread out feasting up and putting on condition. The ones we have caught over the last few weeks, either fishing soft plastics or straylining a chum trail have been in awesome condition and great eating.


We are flying to Vanuatu for a week tackling Blue Marlin, Dogtooth, GT's and Yellowfin, and enjoying some warmer climates for a week, then it is back into the build up to our peak fishing season - I can't wait!


Tight lines
Carl
Coromandel Fishing Forecast:

Kingis hitting poppers through spring. More great fishing for snapper and kingis
Target Species:

Kingfish, Snapper, Tuna, Marlin, Groper, Yellowtail
More Fishing Reports: