New Zealand kingfish season in full swing!
Carl Muir
October 5, 2008
Coromandel - Saltwater Fishing Report

Hi All!
Well the NZ kingfish season is in full swing at the moment!


We got a cracker of a fish over the weekend that went 27kg, the fish hit a Katch1 jig from Sportfishing NZ, We were targeting fish high up in the water column and it had a Daiwa Expedition reel howling at full drag!


Kerren Packer nabbed a great fish with us of a similar size, a big shorter but very fat in the belly. The fish was caught mechanical jigging on a jigging master 250 rod.


And it isn't just the fellas doing the job on the big kingi's here Megan Etherington accounts 18kg of prime Aldermen Island kingfish.


When the arms get a bit sore on the kingis we've been targeting hapuka around the fringes of the same reefs, either jigging (a different style to kingi jigging though) or fishing fresh squid baits.


And a NZ fishing holiday just isn't complete without nabbing a few fresh lobster for the BBQ - there are plenty around making for some exciting hunting scuba style!


As the water warms up we'll see more kingis moving in shore and we'll start targeting them with surface livebaits. There is nothing better than seeing kingis scoff live mackeral right beside the boat and feeling them power off with the reel in free spool!


Get in touch if you'd like to experience some epic NZ fishing action for yourself!


All the best
Carl Muir
www.epicadventures.co.nz


Check out our You Tube video here:
http://nz.youtube.com/watch?v=aQhWggNY_2M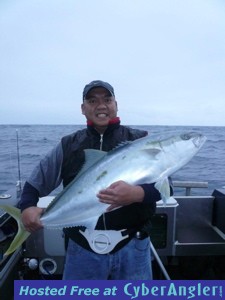 Coromandel Fishing Forecast:

We'll see Albacore running soon, more great kingi action and Yellowfin and Striped Marlin are just around the corner!
Target Species:

Kingfish, Yellowtail, Snapper, Groper, Striped Marlin, Albacore Tuna, Yellowin Tuna
More Fishing Reports: